The history of the umbrella, a French invention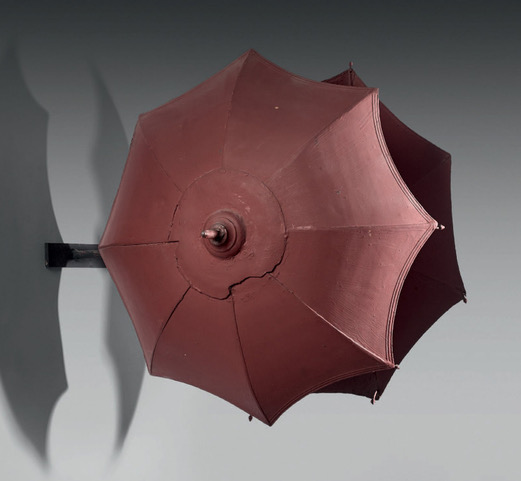 Maison Pierre Vaux - Umbrella merchant sign – 61 x 65 x 61 cm
Paris, Musée Carnavalet – Photo : SVV Lucien
Did you know ? The umbrella as we define it today is a "portable and foldable device designed to protect a person against rain and can also be used to protect oneself from sunlight" (Wikipedia), and is a French invention dating from the 18th century.
The first "foldable" umbrella was created in Paris between 1705 and 1710 by the merchant Jean Marius who invented the "broken umbrella" that could be fitted into a case.
From that time onwards, production of this essential accessory for every home took off in France, particularly in the Aurillac and Jura regions. 
These rural areas are far removed from urban centres and manufacturing of umbrellas gradually developed as a secondary activity in a proto-industrial system. 
As a result, people handcrafted units during the evenings in their homes and these were then sold in the cities by travelling merchants.
This is how certain regions ended up specialising in the production of particular products, such as eyewear and clockmaking in the Haut-Jura. This movement led to the birth of what would later become known as "métiers d'arts" or artistic crafts.
With the arrival of the 30-year boom period after World War II, the golden age of French umbrella production came to an end. 
In recent years, the umbrella market has contracted and imports are all the rage among long-established firms. Very few traditional workshops have survived to this day, but Maison Pierre Vaux is one of them.
An essential fashion accessory, the umbrella is now benefiting from the growing popularity of the parasol…. Ready-to-wear brands and other haute couture houses are using the services of the production workshops of umbrella manufacturers such as Maison Pierre Vaux, which is now the leading producer of French-made parasols.